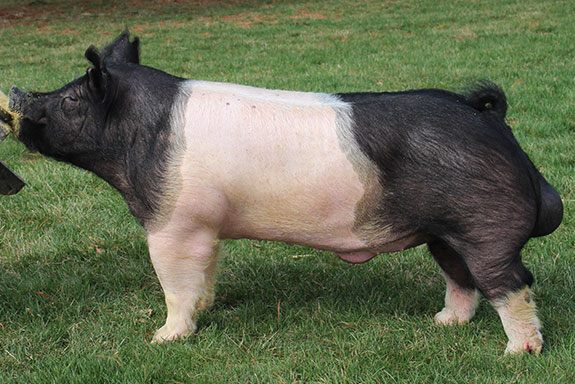 Dirty 239
Dirty Secret x Hillbilly Bone (74-8) x Swagger (75-9)
Stress Status: Unknown
Housed at: Heimer Hamps
Semen:
$300/Dose
Semen:
$250 Dose
TO ASK QUESTIONS ABOUT THE BOARS, CONTACT KARL PETER (217) 653-3941
TO ORDER SEMEN OR QUESTIONS ABOUT SHIPPING OR PAYMENT, CONTACT CATHY GIESEKER (660) 676-7340
Dirty 239 is a littermate to Dirty Bill at SGI and the one we elected to keep on the Hill. This was one of our first Dirty Secret litters and an early indication of just how well Dirty Secret was going to work on our sows. Dirty 239 has seen extensive use since late fall and we are eagerly anticipating his first litters. His mother, 74-8 comes from our most trust sow family – her extended pedigree reads Hillbilly Bone x Swagger (75-9) x Priority One (76–3) x Black Attack (53–11). 74–8 previously produced 'Come to Dad' the Rusty son at SGI and the three sisters to him were absolute standouts in their keeper group. She was a key sow in our 2017 Built the Brand Sow Sale and she is now working for the Leatherman's at Final Drive Genetics. The 239 litter keeper gilts are elite and just another reason why we have so much confidence in this boar and his brother – both of which continue to see a lot of sows at HH.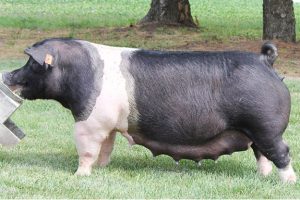 Semen Request