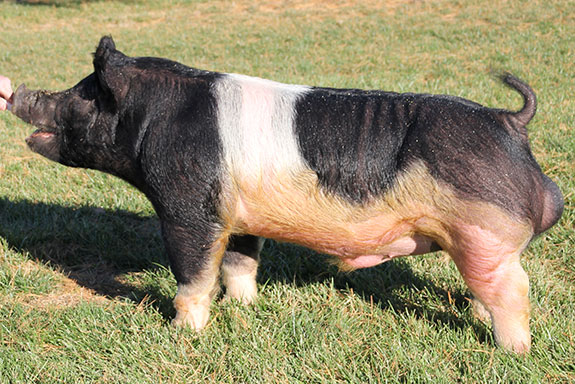 Honky Tonk 104
Honky Tonk Kid x Spiritual Warfare x Red Bone
Stress Status: Unknown
Housed at:
Heimer Hamps
Semen:
$200 Dose
TO ASK QUESTIONS ABOUT THE BOARS, CONTACT KARL PETER (217) 653-3941
TO ORDER SEMEN OR QUESTIONS ABOUT SHIPPING OR PAYMENT, CONTACT CATHY GIESEKER (660) 676-7340
This is the outcross, the outlier and for sure, the different one!! Honky Tonk Kid is a Duke x Tapp Datt at Cornerstone Ventures, bred by Soiluea. The mother of 104 was a unique one we found in the finisher at 4K Farms. Consider this: he has no Swagger, no Best Man, and no Visionary in his pedigree. He has a BIG rib cage, he's VERY moderate and his spread is HUGE!
Semen Request