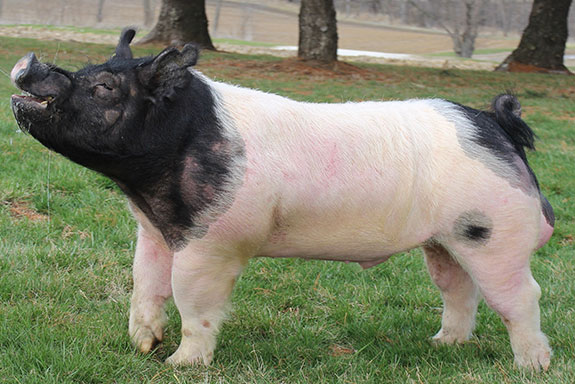 INCLINE
Distinct x Wake Up x Closet Monster x Swagger
Stress Status: Unknown
Housed at: Heimer Hamps
Owned with:
HL Gibson, OH
Semen:
$250 Dose
TO ASK QUESTIONS ABOUT THE BOARS, CONTACT KARL PETER (217) 653-3941
TO ORDER SEMEN OR QUESTIONS ABOUT SHIPPING OR PAYMENT, CONTACT CATHY GIESEKER (660) 676-7340
We purchased Incline from Knauth Showpigs at the 2017 Crossbred Classic with HL Gibson. Kyle purchased his grandam, the Closet Monster x Swagger sow from HH as a bred. When bred to Wake Up, she produced the Reserve Cross at OYE and a sister to that barrow is the mother of Incline. To take it one step further, the 3-6 Swagger sow on the bottom of the pedigree is also the Grandmother of Distinct. Incline is next level in his ability to run uphill and yet maintain comfort out of his shoulder and strength in his pasterns. Naturally we love his pedigree but even more than that, he's been a tremendous fit for a percentage of our sows that need help in the areas where Incline is so good. Based on the first pig crop, it looks like he is going to do everything we hoped for and more!!