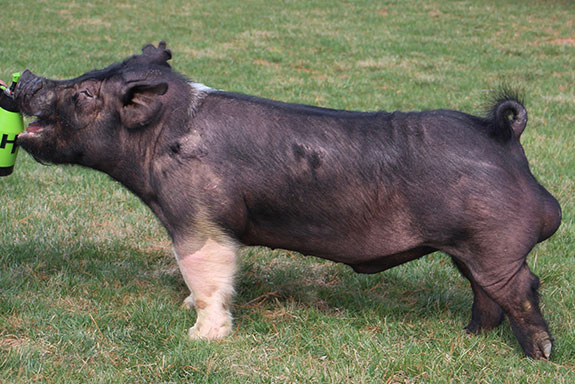 T122
T118 x Swagger (12-37) x Black Attack (11-5)
Stress Status: Unknown 
Housed at: Heimer Hamps

Semen:
$300 Dose
TO ASK QUESTIONS ABOUT THE BOARS, CONTACT KARL PETER (217) 653-3941
TO ORDER SEMEN OR QUESTIONS ABOUT SHIPPING OR PAYMENT, CONTACT CATHY GIESEKER (660) 676-7340
T122 is the first T118 son we retained and one that saw a lot of use out of the gate. In fact, we bred KMS mother to him with his first collection and we're VERY excited about that litter. T122's mother was a sale feature in the 2017 Built the Brand Sale and now works for Final Drive Genetics. In her bred litter, she produced the Reserve Heavy Cross at LSU, the Reserve Champion Middle Hampshire at Houston and DIRTY SOUTH – a new herd boar at HH to be introduced later. Grandam of T122 is 11-5, the sow we commonly refer to as the 'other Black Attack' sow that was out of Heimlick's sister – taking her back to the Candy sow that was part of our beginning. T122 is the perfect blend of his parents…the sheer stoutness of feature from T118 and the look, build and attitude we'd expect out of this particular Swagger sow.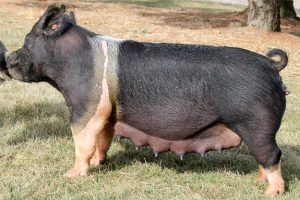 Semen Request