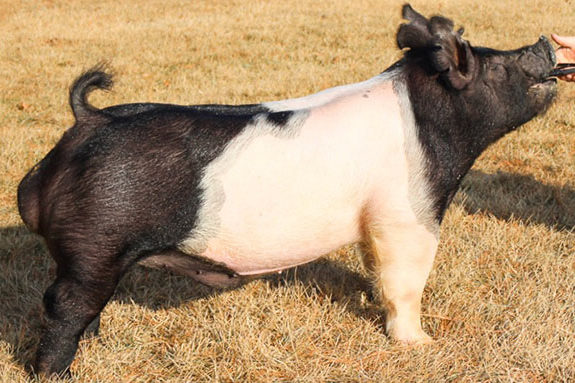 Little Bro
Dirty Secret x Ante Up (240-12) x Hillbilly Bone (108-10)
Stress Status: Unknown
Housed at: Heimer Hamps
Semen: $200/dose – Contract pricing available
TO ASK QUESTIONS ABOUT THE BOARS, CONTACT KARL PETER (217) 653-3941
TO ORDER SEMEN OR QUESTIONS ABOUT SHIPPING OR PAYMENT, CONTACT CATHY GIESEKER (660) 676-7340
Incredibly fertile and sires extraordinary depth! Little Bro is the littermate to the $50,000 boar pig we sold to Lackey Livestock & Lettow Showpigs at Kings of the Hill Pig Sale last fall. We retained a 1/3 interest in that pig who now carries the sale name 'King of the Hill (KOH) and is housed at SGI. Little Bro was always a little smaller than his brother, hence the name, but like all little brothers, he finally grew up! His mother, one of our best generators, is a littermate to Up the Odds at Genetic Edge and Calcutta at 4K Farms. His grandmother is 108-10, the influential Hillbilly Sow from 4K that is also the mother of T118.  All kinds of sow power behind this one!
Notable Wins:
Grand Barrow Overall :: 2019 Ohio State Fair Junior Show
Champion Other Cross Barrow :: 2019 Houston

Bred by Spring Creek Genetics

Champion Other Cross Barrow :: 2019 State Fair of TX
Reserve Grand Overall :: 2019 Cow Palace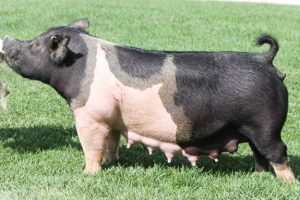 Champions Sired By Little Bro
Semen Request
This form will serve as a request only. It is not an official order. After submitting this form, you will be contacted to verify your order. If you would prefer to call in your order, please call Karl Peter at 217-653-3941.