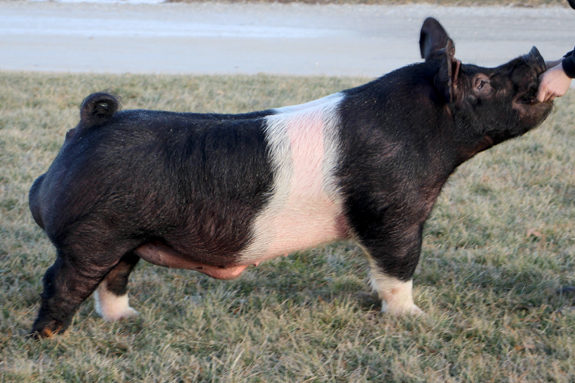 Prison Rules
Rule 21 x Dirty Secret (278-9) x Swagger (9-2)
Stress Status: Unknown
Housed at: Heimer Hamps
Semen: $300/dose – Contract pricing available
TO ASK QUESTIONS ABOUT THE BOARS, CONTACT KARL PETER (217) 653-3941
TO ORDER SEMEN OR QUESTIONS ABOUT SHIPPING OR PAYMENT, CONTACT CATHY GIESEKER (660) 676-7340
Dam is a littermate to the Grand Overall '18 National Western and favorite Dirty Secret daughter retained to date. Mate gilt to Prison Rules was $21,000 Champion Cross & Supreme Gilt Overall at the '19 American Royal. The Rule 21-sired pigs that we sold in 2019 fed very well for our customers and we are excited to have an elite son to use.
*Note, Prison Rules is a maternal brother to Kingpin*
Semen Request
This form will serve as a request only. It is not an official order. After submitting this form, you will be contacted to verify your order. If you would prefer to call in your order, please call Karl Peter at 217-653-3941.