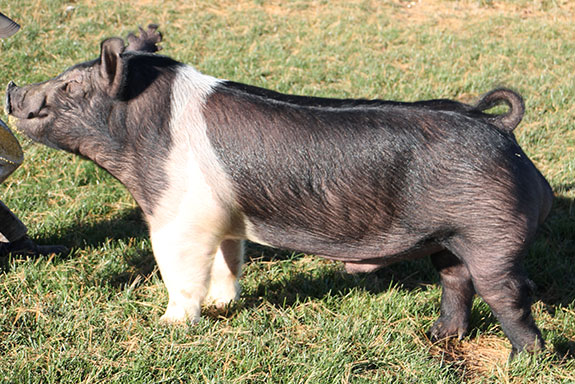 T132
T118 x Verbatim (225-6) x Tapp Datt (Roxy)
Stress Status: Unknown
Housed at:
Heimer Hamps
Semen:
$300 Dose
TO ASK QUESTIONS ABOUT THE BOARS, CONTACT KARL PETER (217) 653-3941
TO ORDER SEMEN OR QUESTIONS ABOUT SHIPPING OR PAYMENT, CONTACT CATHY GIESEKER (660) 676-7340
T132 is the unique one of all the T118 progeny and perhaps his mother deserves a lot of the credit. T132's dam is 225-6, one of three 225 sows on the farm and to date, and probably the most accomplished. This particular sow recently produced the Grand Overall Barrow at San Antonio, the Reserve Grand Barrow at Fort Worth and the Champion Cross at the NJSA SE Regional – that litter sired by Dirty Secret. Her first litter was sired by Ante Up and included the Heavyweight Cross Class Winner at '16 Fort Worth. This litter sired by T118 was big and deep and we retained 5 littermate gilts to this boar. To elaborate on the 225's, consider this: 225-5 produced the Reserve Grand Barrow at '17 Denver and his littermate "Dirty Deal" that stands at SGI & 225-9 produced the $14,000 prospect at Perfect Timing now called 'Draft Pick' and stands at MB Genetics, TX and his littermate barrow that was 4th in Class at Rodeo Austin.  The 225's are sired by Verbatim, the clone of the Reserve Dark Cross Barrow at '13 San Antonio (Swagger x Priority One x Black Attack) and out of Roxy, the $40,000 purchase at WPX a few summers ago. We truly believe we've only scratched the surface of Roxy's impact on our breeding program – her daughters and their sons are a big part of our future. T132 has incredible elevation upfront and combines that with perfect show barrow proportions and undeniable presence.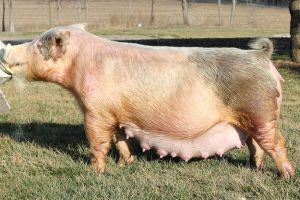 Semen Request