There are plenty of phrases, quotes and sayings about opportunity. Chances are, you've read one recently when scrolling through your feed on Instagram or Facebook. I've read several that are really good, but for me, this one is always rings true: Opportunity doesn't knock twice.
It was February when we were approached by another firm about their intent to sell their sow herd and, to be completely transparent, I probably didn't take the situation very seriously at first. But the longer I let the news sink in, the more I realized this was an unprecedented opportunity. It wasn't a matter of yes or no, the real challenge was how?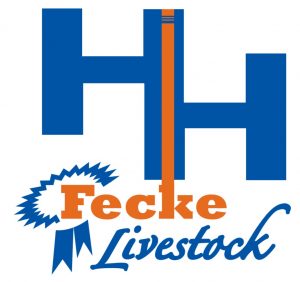 After several conversations and many trips to Bonfield, Illinois, I am very excited to announce that in early June, we purchased the Fecke Livestock sow herd, in its entirety. For more than a decade, the Fecke family has been acquiring elite females and compounding their influence. The Fecke name has long been synonymous with success in the show ring and that focus has resulted in several notable wins over the years for their customers. Their dedication to gilt retention resulted in a sizeable herd of Hamps, Yorks and Crosses in addition to a few Durocs and Chesters. We had the chance to buy them all and we did!
Those who follow our program will note that for the past few years most of the focus at HH has been dedicated to building elite crossbred showpigs. That effort has produced several memorable wins and the feeling of accomplishment as we've watched kids and fami
lies reach their goals. The resulting genetics from our crossbred focus has spread far and wide and its continually gratifying to see HH boars and females in the pedigrees of barrows and gilts that find the backdrop. For all our attention to our crossbred program, admittedly, we recognize the need to spend more time making purebred progress – especially our Hampshire & Yorkshire base – and this acquisition will certainly balance our approach going forward.One could argue that collectively, the Fecke Hampshire sows represent the largest and most diverse set of Hampshire genetics left in the country. That alone was an attraction and a challenge all the same. Regardless of where the breed is heading, we have always loved Hampshires and we are confident these sows can be part of the solution going forward. These Hampshire genetics have already generated as many winers as any herd in the country and we're anxious to build on that success. The Yorkshire sows as a whole stem from a pair of gilts that were purchased years ago. Decedents of those two sows, combined with a heavy influence of High Country (more than once) resulted in a tightly wound Yorkshire herd that has been cranking out highly competitive barrows and gilts. ie 'Olivia' the Champion Yorkshire and Grand NSR Gilt at the '18 WPX Junior National and most recently, the Champion York Barrow at the Indiana State Fair.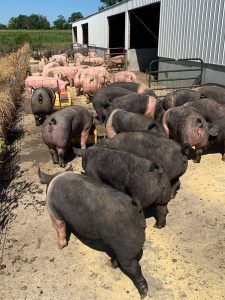 Over the last couple of months, we have been transitioning sows to Taylor. As we moved Hamp & York sows South, nearly half of the Crossbred sows went East. And with that said, we would like to announce that Wolf Show Stock in Rensselaer, Indiana purchased a large chunk of the crossbred sows. It has been our pleasure to work with Austin & Hayze Wolf over the last couple of years as they've entered the showpig business and expanded the scope and size of their operation. My relationship with Austin started as co-judges for the La Prix Scholarship at Embryo's on Snow in Denver, Colorado, and today we work together on cows and sows! Most of the sows they purchased were bred to farrow this summer and they are pumped about the pig crop. Stay tuned for announcements as Wolf Show Stock rolls out their plan to market those pigs.
During the course of making plans for the sows, we were also making plans to get them bred, a daunting task when you see a barn full of sows and you don't know their pedigrees from memory. This effort requires a lot of semen and while we're utilizing several outside boars, we have also purchased a couple elite boars this summer and we look forward to introducing them soon. As exciting as it's been to get these sows to Taylor, the reality is that we don't have room to keep them all. Our plans aren't set quite yet, but Hampshire & Yorkshire enthusiasts should anticipate opportunities to grab a piece of the Fecke herd be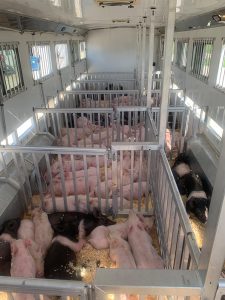 fore the end of the year. If you're curious or interested, just ask.
As for the summer pig crop, most of those June, July & August litters were farrowed at Fecke's and those pigs are also in transition to HH. The oldest litters have arrived and the best ones will be offered in our upcoming Virtual Bid Board sale at the farm on September 7th. Look for more Fecke-bred Hamps and Yorks to be included in our online sales this fall and in the future.
We've never been more excited about this industry, even amidst challenging times, and this acquisition only underscores our commitment to the showpig business. In closing, we want to thank the Fecke Family; JR, Denise, Trey and Cade for this opportunity. You were devoted to building a sow herd that anyone would be proud of and from where we stand, you reached the goal and beyond. To the loyal customers of Fecke Livestock, our pledge to you is that we will work tirelessly to make the best, better!