Welcome to the 2020 edition of "The Ones That Built the Brand!" This is the fourth time we've assembled our best and most proven sows to offer them at auction and we can say with confidence, they're as good as they've ever been! I am excited about this offering, but I am THRILLED to welcome all of you to The Hill for our hospitality, entertainment, and a LIVE AUCTION with ONLINE BIDDING available via CCI.live on June 19 & 20!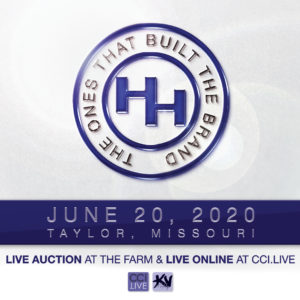 2020 is already a year we won't soon forget. It would be very easy to use this space to get political and focus on the negativity that seems to show up everywhere we turn. Instead, Iwant to focus on the positive and tell you why I'm confident in the future of this business. We all know what has been cancelled. If you're like me, you're almost numb to what might be next. But have you noticed the resiliency of our stock show community? Have you realized over the last several weekends that livestock shows ARE happening, even when most everything else isn't? I'm not sure I have ever been more proud of our industry and the collective 'where there's a will, there's a way' attitude it represents.
There is no doubt, uncertainty reigns supreme as we near the midpoint for this year, yet amidst all this chaos, I think it's critically important that we find opportunity in everything.
What could be if we get the chance to change the status quo? Now is the time to make positive change for the future sustainability of the junior livestock program. If this time has reminded me of anything, it's this quote: "Never doubt that a small group of thoughtful, committed citizens can change the world; indeed, it's the only thing that ever has." Over the last few months, I've watched several groups step up, adapt, and improvise because they prioritize the youth of our industry, and they understand the value of junior livestock programs and what they represent to our communities and the Agriculture industry.
Even though it felt like the whole world shut down, at the farm, we couldn't and we didn't. I have never been more thankful for my crew and their steadfast commitment to our cause. They never missed a day, and more importantly, they never attempted to use any of this as an excuse to do anything below our standard. Without them, the livestock offered to you in this event, the pigs we sell throughout the year, and the genetics you've come to trust to build your own programs simply would not be possible.
Our measure of success is directly tied to the success of our customers and, by all accounts, the last couple of years have been extremely successful. There have been many wins to celebrate and many of the sows responsible for that success can be found in the pages of this catalog. Our current inventory at HH is as high as it's ever been, and for that reason alone, we can say with confidence this set is the best we've offered to date. Yet beyond just numbers, this group of sows represent as much proven revenue-generating ability as we've put together and the open females represent a rare and exclusive opportunity to select from the very top of the inventory we've developed at The Slat Barn. Altogether, this offering is deep, it's diverse, and every animal in the offering was engineered with show ring success in mind.
On behalf of the entire HH crew, I invite you to join us at the farm on June 19th & 20th for the Ones That Built the Brand.
– JH