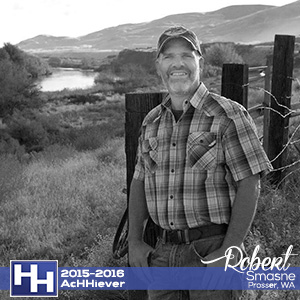 Heimer Hampshires has selected Robert O. Smasne of Prosser, Washington as the 2015-2016 AcHHeiver. Robert O. Smasne, a 4th generation farmer, was born and raised in the agriculturally diverse Yakima Valley in the Eastern portion of Washington State. His passion for raising showpigs started at an early age and can be credited to his dad, who has actively raised showpigs for the past 50 years. Smasne first started raising hogs as part of his 4-H project and then recently got back into the industry once his kids started showing.
His showpig operation, Smasne Show Pigs is a 10+ sow operation that focuses on developing elite females. Smasne produces both purebred and crossbred showpigs and currently sells all of his pigs through private treaty with a customer base he built on strong referrals and relationships.
Smasne is no stranger to the hard work and dedication necessary to run a business as he has successfully chased his dreams in another industry. He is owner and operator of Smasne Cellars, named 2013 Washington Winery of the Year. Smasne crafts all of the wines for his label, and is also a highly sought-after winemaking consultant for many Washington wineries.
Smasne feels the value of the AcHHeive program is far more than just getting to select from the Heimer Hampshire gilt pool.
"Although having access to the quality females is reason enough to be a part of this program, I see this as an opportunity to make myself better through the guidance and support of Jesse. I credit the success of my winery and winemaking career to not only hard work and dedication, but also the trust I put in the peers I surrounded myself with. Through their knowledge, I made myself better, my career better, and my future more successful. I want to be a part of this program because I believe in myself, my talents and my vision for my operation and truly understand the value that these females, coupled with Jesse's knowledge and guidance, would bring to my business."
In addition to the possibilities this opportunity will provide for his operation, Smasne believes giving back is also extremely important, and he sees his involvement in the program as a way to help other breeders. "I would like to share this wonderful program with my father and those close to me that continue to share a passion for this industry. I understand the worth of this program to myself and also to my geographical area. Not only will my operation benefit from this program, but also many other area breeders will benefit through my success, my breeding and my guidance. To be better, to succeed and to tell a story you must be passionate, motivated, surround yourself with those who can help you achieve. More than anything, you must be willing to give back."